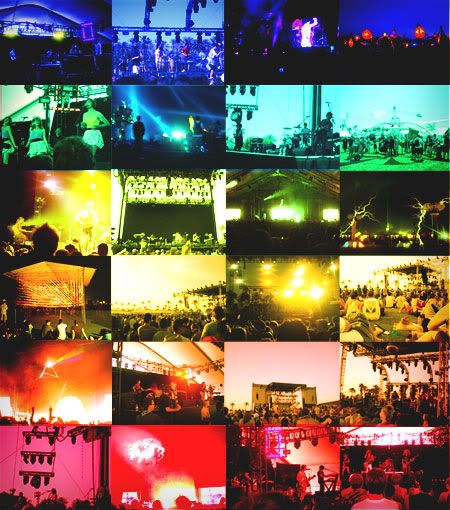 ok so i failed horribly at blogging my experiences at coachella. maybe i was slightly overwhelmed because there was so much to say about it. or maybe it's because i talked about it nonstop for the week or 2 after & i, plus everyone else (i'm sure) was a little tired of it. coachella was one of those experiences where so much is happening all around you but you are so exhausted & tired that the whole thing ends up feeling like a dream where you're not sure what DID happen. the music was amazing, the bands played on time (with a few exceptions) it was HOT, there were a lot of very interesting people, & there was always something to do. for 3 straight 12+ hour days it was non-stop entertainment. by the 3rd day i was more often lingering toward the back of the crowds or sleeping in an air conditioned nokia tent rather than fully immersing myself in sets that i would probably pay good money to see play in salt lake. i had no idea i would crumble under all the goodness the way i did, but i can sum it up to just not being prepared for it. you have to expect to be running all over the polo field & missing your favorite bands to see your other favorite bands. i had to decide whether to watch prince's 2.5 hour show & risk getting in a girl fight/getting peed on AGAIN or to leave a little earlier to maintain my sanity(we left early; 1AM). staying the the entire roger waters set or leaving to go to the chromeo & justice dance party(missed the dance party but totally worth it). sleep in or see a band i like but not THAT much(slept in). i still wish i could go back again this weekend & i think i will miss it until i get to go again next year. for now, here is a very brief summary of what i saw...


friday...

dj mehdi opening act of the festival, we watched him since he was the only one playing on any of the 5 stages at that point. he is one happy dj.
american bang if you like kings of leon you will love these guys. bringing back the classic american rock & roll sound.
battles intriguing. we only stayed for a couple songs. sounded like ratatat to me.
black kids these guys & girls were so much fun. great music.
architecture in helsinki those are some silly australians. they were fun & sounded as fantastic live as they do in my earbuds.
vampire weekend honestly, after the first 5 bands i saw these guys were a little boring. but i do like their music. i think it was just nap time at this point.
the national they played right after vw on the same stage. it was good, but the vocals weren't my favorite.
the swell season i would have payed friday's ticket price just to see them. it was incredible. those are some talented people. you MUST check them out.
after swell season we noticed the field beginning to fill up with couples dressed in american eagle & abercrombie & an abundance of baseball hats. it took us a minute & then we remembered: jack johnson was headlining that night. so we left.

saturday...

the bird & the bee lovely. adorable. sweet. i love love loved them & their bubbles & squirt guns.
vhs or beta it is impossible for these guys to not rock. i was in the front row dancing & sweating in the 2pm sun. they sounded insanely good.
minus the bear played main stage right after vhs so i kept my front row spot. they played my favorite songs. i simply love them.
mgmt is this really happening? did i just see 3 amazing bands & now i am seeing another? yes. mgmt was electric. can't wait to see them again sometime. oh & i was standing right by the guitarist from vhs, i wanted to high 5 him so bad for some reason! haha
kate nash that girl was a hot mess! i don't think she had ever seen the sun. she was sweaty, frizzy, moody & her weird christmas stage theme was tacky. but there's no denying her lovely voice & catchy emotional lyrics are a hit with the hipsters. she was good - the group of girls screaming every lyric behind me was not.
death cab for cutie only watched from afar for a few songs while we re-energized for the rest of the day. they sounded like...death cab for cutie.
rilo kiley so good. so so good. better than i had imagined.
M.I.A. disappointing. there were about a million people crammed in the tent to see her. gunshots are not music. neither are blow horns. she only played 4 songs during her hour long set. yeah.
prince i got peed on. beat up due to some drunk girl's violent dancing. he started about an hour late. then he played 1999 hid behind some speakers for an entire song & then played little red corvette. that's pretty much all i remember. we sat down at the back of the crowd (about a mile from the stage) & heard him do the cover of radiohead's creep but didn't really care because we were barely still alive after having such an amazing day. then we left.

sunday...

slept in, went swimming, arrived to the festival at 4.
stars they were alright, a little disappointing. we left early & noticed that as we walked further away from the stage they sounded better & better. i don't know what was up with that.
autolux i don't even remember them, i was passing out on the grass at this point.
metric got me on my feet. even from the back they were great. very entertaining.
roger waters wow. it was amazing & i have never been much of a pink floyd fan. but it was a crazy good show. the inflatable pig, the plane, the prism, i loved it all. i'm glad we stayed for the whole 3 hour set (missing chromeo & justice).

so that's all the music, there was so much more besides music but that's not what this blog is about. so go check out those bands! & go to coachella next year!