my top 5 albums of 2007 along with brian little's (guitarist from vedera) top 5 at the bottom.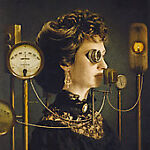 5. the chariot -
the fiancée
my first impression of
the chariot
: "dear god. how can anyone listen to this?" however, after putting on the album after a pretty bad day that changed to "how can anyone
not
listen to this?"
This music is, indeed, harder than most, but i find a better way to describe it is urgent and very calming. so suprisingly enough i fell in love with this album. favorite track: "the deaf policemen."
4.
eisley

-

combinations
i felt a faster, more upbeat sound was present on eisley's newest cd "combinations", but the beautiful vocals on
eisley's
first album, "room noises", carried over as well. only one song was out of place: "marsh king's daughter" had a peppy and (what could be described as) a disney feel to it. favorite track: "a sight to behold".
3.
brighten - king vs. queen
before i actually acquired this album it was all i could do to not listen to the four songs up on
brighten's
myspace over and over. along with their indie-pop music, clever lyrics such as "i am windows breaking in the airplane" kept me very interested. to sum it all up: i love the vocals, i love the sound, i love it. favorite track: "darling nicotine" or "treasure island."
2.
dead poetic - the finest
this album eased my indecision when trying to settle on only five from this year. it is a "best of" album from
dp
and includes tracks from all three albums. if i had a say in choosing the songs, i might have switched a few, but i feel the collection is pretty well put together and (for all you die hard dead poetic fans) an acoustic version of "in coma" and some demos are also included. favorite track: "glass in the trees."
1.
anberlin - cities
i know i'll probably get a lot of crap for putting this album as my number one, but
anberlin
gets a bad rep as "that band with the really old singer trying to dress like an indie kid." however, if it even means a thing, i am sticking up for them. you know the albums you buy, then play over and over until you know it completely? this was that album. i literally bought it and for days straight i played nothing else. perhaps it was just the time in my life that it came out, but i found
cities
to be inspiring and life changing. frontman, stephen christian, commented that this album had a self vs. self theme (and i'm paraphrasing to the best of my abilitly). it kept that familiar anberlin sound and as their third album out not only seemed more mature, but deeper as well. favorite track: "fin" or "reclusion."
other albums i enjoyed this year (alphabetical, by band):
andrew bird - armchair apocrypha
the arctic monkeys - favourite worst nightmare
as cities burn - come now sleep

the cinematics – cinematics

dear and the headlights - small steps, heavy hooves
gregory and the hawk
- in your dreams
lovedrug -
everything starts where it ends
mayday parade - a lesson in romantics

maylene & the sons of disaster
- II
the shins -
wincing the night away

stars - in our bedroom after the war
straylight run -
the needles the space
yeah yeah yeahs
- is is ep
i think i got a little carried away…2007 was better than I thought.
as far as disappointments go, armor for sleep and their new album "smile for them" took the cake. "smile for the camera" was a catchy song (and the only one i really liked), but to me it wasn't armor for sleep. maybe i should cut them some slack since "what to do when you are dead" has to be one of the hardest albums to follow up. another really disappointing album of 2007 was "santi" by the academy is… i stopped listening after "lax to o'hare."
Brian Little's (Guitarist from Vedera) top 5 of 2007
1. Foo Fighters "Echoes, Silence, Patience and Grace"
2. Radiohead "In Rainbows"
3. Iron & Wine "The Shepherds Dog"
4. Rogue Wave "Asleep At Heaven's Gate"
5. Stephen Marley "Mind Control"